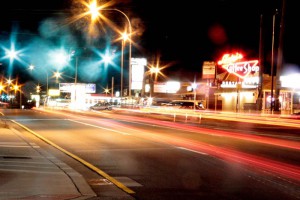 There is, here in my home state of Delaware and in many other places, an annual event called "Fun-A-Day." The idea is simple: set yourself a project and add to it one piece every day for a month. It could be a serious art series, albeit with small projects, or something just plain silly, like picking up a new twig on your daily walk. There are no rules, other than a maximum size for 2D work, no limits on who can participate (over 100 in 2016!) and everybody gets to show their projects at the end of the month in a one-night show.  Fun.
I use this event as an excuse to break out of my own mold and develop an idea that needed a little incentive to start.  The first year it was lumen prints.  It was a lot of fun and I learned more than a couple things along the way. One of them was that daily projects should not be totally dependent on the weather. Lumen prints don't work nearly as well inside a warm, dry house as they do in a bright, sunny outdoor spot and I ended up spending a few days playing catch-up.
Last year and this year, it has been night photography. I can't count how many times I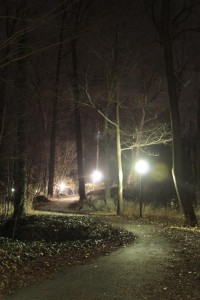 have admired the lights from cars, traffic lights, street signs and lamp posts on wet roads, the glare in fog and just streaking down the road on night road trips.  Equipped with both a DSLR and a waterproof point-and-shoot, I spent my time on nightly sojourns to different spots near home or wherever I happen to be. I'd set my camera on a tripod, program it for a 30-second exposure and watch the traffic swirl, the street lamps glow and the magic appear on my view screen. Lights on cars became long streaks of light across the frame. Unmoving lights become brilliant stars. The world is transformed.
There were lessons to be learned here, as always. Among them:
If you bring the DSLR and no umbrella, it will rain.
The best angle is always the one that requires swimming with the camera, flying or getting hit by a car.
Yes, it really can drop to record low temperatures two years in a row, and yes, I will go out anyway.
If you want the snow to fall, it will stop as soon as you get the camera out.
To take the picture you want of the lights streaking down the road requires standing at the street corner for an hour or more, waiting for just the right number of cars to pass through during a traffic light cycle.
Traffic lights take even longer to turn when you are taking pictures than when you are waiting to cross the intersection.
Blizzards are wonderfully eerie.  The roads during our quasi-annual snow-induced states of emergency are free to travel on foot and the glow of the street lights through the snow is magic. The only sounds in the swirling snow were the wind, the crunch of snow plows and a distant fog horn.
No matter how bright the lights in the foreground are, the moon is infinitely brighter. Your eye can get details in both seemingly at the same time because the brain is an incredibly intricate computer that can switch back and forth between the moon and artificial light sources fast enough that you perceive details in both at the same time. Cameras are not nearly that sophisticated. If you want the picture to look the way you saw it, you're going to have to take two pictures, one of each light source, and make a composite photo on the man-made computer, but that is a topic for another blog.
No matter how much frustration I have over going out, finding a place to shoot, and fighting the camera to get what I want, I always come home happy. I had fun.