The weather here in the Northeast USA has been bleak to say the least these past few months.  I write this while snowbound in a county that gave up the night before and just said, "Nope, not going to even think about opening tomorrow."  The skies are gray and the ground alternates between white and white-tinged-with-soot.  Local travel even a couple miles down the road by any means can be tough.  Folks are more than a little tired of being cooped up and dreaming of sunshine and bright flowers.  Through all this I've taken the time to look at the immediate surroundings and see what fleeting wonders I can find in the neighborhood amid the ice and snow.  There is magic to be found in something as simple as the street gutter, if you take a close look. The ice formations in the shallow water freezes, thaws and re-freezes in an astounding array of patterns and textures.  Add  the dried leaves leftover from last fall, and I have an endless supply of fresh material which, though spring may (eventually!?!) defrost us, will be here in one form or another for as many years as I care to shuffle down my street.
I have some photographer friends who travel the globe looking for exotic scenes and faces to photograph, and others who wait for the right "photo ops."  Ironically, one of those friends, who lives just a few miles from me, went thousands of miles to photograph the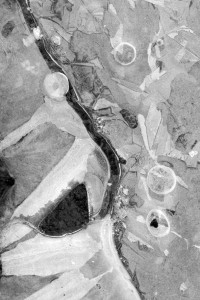 icy landscape of some other country twelve months ago.  I, myself, grew up looking at issue after issue of brightly-colored photography magazines showing the far-off places, presented as the ideal for anyone who wanted to be a photographer.  What I learned from being a teenager stuck firmly in the neighborhood in which I lived, was to look for the exotic when and where I was, not where I should (and maybe never could) go, and it has served me well.  And that friend who went far off to shoot the ice?  She may or may not do that again, but has since then decided that the 3-foot-wide creek that runs between houses down the street from me, the frozen puddles on the sidewalks, and the puddle that forms behind her home make for subject matter equal to the ice of her far-off adventure.  She now meets me weekly to shoot more ice pictures close to home.
One does not even have to step out the front door to find something beautiful. Take a close look at what's in your home. One woman I now wowed her camera club a few years back with the close-up she took of the swirl on top the freshly-opened tub of margarine in her refrigerator.  I stood one day watering my plants in the only sunny window in the place, arranged next to an old silver tea pot that was gathering dust in its display spot.  I saw myself reflected in the curved pot as if I was looking into a funhouse mirror and ran upstairs for a camera and tripod.  After half an hour of selfies I had one shot that I loved.  It went on to get accepted to a national juried show and was published.  Seven years later, one of my favorite photography class projects is to bring in a bag of shiny metal pans, tea pots, utensils, candle jar lids, etc., usually scratched and/or tarnished from years of use, and let the students experiment with them.  What surprises come from every-day objects!
It can be hard to feel creative stuck in the same old spot surrounded by the same old stuff.  The familiar is easily overlooked because it is there right in front of us all the time. The core issue is not what you see so much as how you see it.  My own way of keeping fresh is to stop looking at the stuff around the house as a mass of utilitarian objects and look for the shapes, shades, colors, patterns, reflections, shadows and lines that make up what is before me.   It helps me break away from the visual and mental clutter and enjoy my surroundings with fresh eyes.  If you want some inspiration close to home, try this exercise to refresh your perceptions:
Photographic Scavenger Hunt:
Take a walking tour of the place you call home.  It could be your dwelling, your street, your neighborhood, wherever you feel most familiar without actually traveling to someplace"photogenic."  Look for the following:
1. A reflection
2. A shadow
3. Something with lots of texture
4. Something smooth
5. Something with strong lines
6. Something with an interesting shape
7. Something with a variety of shades of gray
8. Something with lots of contrast – old and new, light and dark, rough and smooth, all or none of the above, whatever fits your own definition and surroundings
9. Something colorful – Even in endless gray, I have found some very lovely colors tucked away in the ice.
10. A picture taken from an odd angle.  - We get stuck in a rut looking at everything from our height.  Try squatting down or getting up on a stool and re-examining things.
Though the items on the list might tend toward the abstract, most of them are fundamental elements of design that apply to any subject or style.  The texture, for example, might be some abstract treatment of a rusty pipe in the basement or the fur in a portrait of a family pet. Once you are done, you may just find that you look at everything a little bit differently.