Whether you are taking pictures of sporting events, family celebrations or on assignment, you find that often times actions happen so fast you can't get the camera swung around fast enough to catch it — if you aren't prepared.
You know if someone is lighting a cake, the birthday person is soon going to blow out the candles, right?  So, before they get ready to blow, get ready to shoot!  Have the camera on, aimed and ready to fire when you see the flames.  If you have the ability to take several shots in a row by holding down the shutter button, set that switch to "On."  Timing is everything and this will help get the shot exactly when you want it.
When I shoot pictures of people, I usually want them to be totally unaware of my presence.  I hide in the background as much as I can and watch the event unfold just long enough to plan for what will happen next.  At a soccer game, if I want a shot of the winning goal, I plant myself right where the shot should happen — and wait.
Likewise, when I shoot events, I watch the participants to see what they are up to, then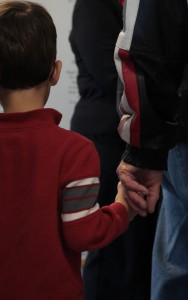 when something looks like it might happen, I'm ready.  At the school where I volunteer, there are plenty of opportunities to do either fast, hum-drum surveys of the day or patient records of the heart-melting moments that are most treasured.  A group of kids and fathers was playing Twister.  I took a quick shot of the game as it began, then waited, watching through the lens, knowing full well that at some point this game was going to get awkward and silly.  Later, I moved to another room, where a grandfather and a bunch of kids were playing a game.  As each one made headway, they cheered and gave high-fives, so I planted myself and waited for the next time someone made progress.  At the end of the day, the grown-ups gathered in one room, with lost family members lead by their children.  Waiting by the door, close to the ground at kid-level, I perched, looking for holding hands, hugs good-bye or whatever may come.  I was rewarded with the cutest pair of hands between grandson and grandfather, as the little guy was leading the way.
I never know exactly what will happen when I'm out and doing my thing, but a little planning goes a long way in catching what unfolds!