The Rule of Thirds is a compositional guide to help you balance a scene.  Most people start out by aiming the camera so that what they are interested in is at the center.  The Rule of Thirds says to put the most interesting part of the picture off-center to make the picture more dynamic.  Imagine your viewfinder divided into a 3×3 grid.  According to the Rule, the most interesting part of the picture should be placed along one of the dividing lines, or better yet, at the intersection of one of these lines.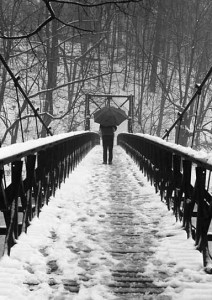 Take a look at our man on the bridge from last week.  If I had taken the picture with him in the middle, this is how he would have looked.  The trees are above and the snow below, but it feels like he's just standing there. The leading lines from the bottom stop at the center of the shot and the ones that used to come from the top are now too far away from the top or center to be guides through the other half of the picture.  The picture is static.  There's no story.  He's just …. There.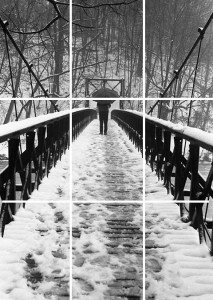 Now think about the grid. Because the leading lines on both sides make the picture symmetrical, I chose to put him at the center of the top-third line.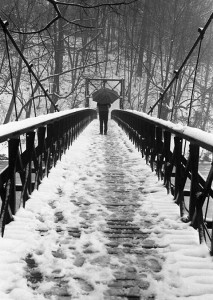 In the version I originally chose, the bridge takes up the bottom 2/3 of the shot.  We see a man taking a rest after what seems like a long walk in the falling snow.  The trees are still there, and give him someplace to go, but they are not as important as where he seems to have been.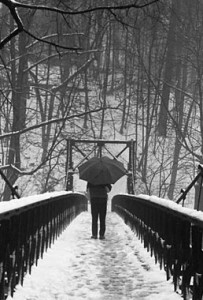 Alternately, he could have had a short walk to a much more imposing wilderness.  Compose the picture so that he is at the bottom 1/3 and give the trees more space.  Now, a short bridge ends in tall trees that dwarf the man facing them.  The archway around the figure is now more obvious and the railings lead you past the figure to the archway and into the unknown woods.
No matter which way you choose, following the rule of thirds gives this picture more emotion and more of a story than placing the man in the middle.